SCOPE goes mobile to engage learners

SCOPE is a Govt. of Gujarat initiative, launched in 2007, to enable the youth of Gujarat to build English language skills and create employment opportunities for them. Today we have achieved impressive results and we are on the verge of welcoming our 500,000th Candidate. Since 2007, the focus has been on providing an internationally benchmarked course supported by top class learning resources and an internationally accepted certification offered by Cambridge English, part of the University of Cambridge, UK.
At SCOPE we have shifted over the last 3 years to a totally online assessment and certification system. Our candidate and training partner registration system and MIS are also totally cloud based. This year we took this technology integration to the next level by offering learning support to our learners through the online portal www.flinnt.com. SCOPE chose to work with Flinnt because of its availability on Android and iOS. Our target audience is mainly college going students and we felt that mobile phone is the medium for SCOPE.
Two of our courses A1 & A2 and B1 & B2 are available on Flinnt. We started registering candidates for these courses since April 2014 and more than 20,600 candidates have registered to these courses. On Flinnt the posts focus grammar, reading and listening skills. The posts are a mix of learning resources and multiple-choice quizzes. These posts are predominantly accessed by the learners on their mobiles, although some of them also access it through PC's in our Digital Education Labs setup in many colleges across Gujarat.
Registration to these courses is very simple, candidates have to just download the Flinnt app or logon to the Flinnt website, sign up and say 'join a course' and apply the following course codes:
English A1 & A2 : XN9CKE
English B1 & B2 : 6U6UQN
The courses are offered absolutely free of cost, even the past learning resources can be accessed by the learners. At present each course has more than 1300+ learning resources and it is a fantastic repository that can benefit the candidates. The posts explore and explain language use in the context of day to day events and happenings related to movies, politics, travel, food and other topics of interest to the youth. This combined with the fact that it is delivered on the mobile phone ensures that the learners are engaged and interested.
We hope many more candidates will take benefit of this service and learn English on the go and at the same time improve their knowledge of current affairs.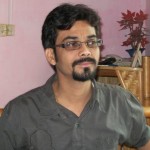 Jt. CEO.
Society for Creation of Opportunities through Proficiency in English
Gujarat