Parents make better teachers!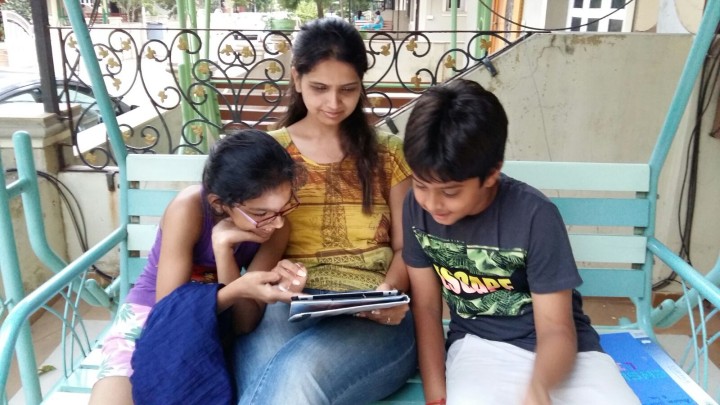 I believe in the saying "parents make better teachers", because they know what is expected out of each other. And it stands true for me too. I became a teacher after becoming a parent and it definitely helped me a lot in my teaching career.
Teaching was very close to my heart since my childhood. I have always wanted to inspire others and "teaching" is the best profession to inspire many people simultaneously.
Social media, teaching and technology

Other than teaching, technology is also an interest area, I have been exploring and using the various social media platforms. Exploring social media platforms not only enable me to build my personal and professional network but it also helps me in discovering content that I can share with my students. The only two ways of sharing content over an above the textbook was Email or printout, emails were not collaborative and giving a printout was an expensive proposition. I was in the search of a more convenient and cost effective way to share things when I came across Flinnt.
Introduction to Flinnt
It was in the middle of the 2nd term last year that all the teachers of my school got to know about Flinnt. In the orientation itself I could sense that this was the platform that I was looking to share learning resources with my learners. The next day's training session reinforced the thought when we realized that the training lasted just 15 minutes and we felt that we had got the hang of it and we didn't need any further training. All we needed was a move on, get the group defined, invite the users, get them on to Flinnt and start sharing, does anybody need training to send an instant message. The training seemed to be an affront to our sensibilities!
My excitement doubled when my little one came home with a circular that they need to download the flinnt app. She is in the Grade 5 in the same school where I am teaching. My eyes lit up as I immediately sensed that this gave me an opportunity to look at Flinnt from a parents perspective and that would help me in making my posts as a teacher.
Multiple roles and multi tasking
Thus I was using Flinnt as a teacher, coordinator and a parent simultaneously. I used to observe what other teachers were posting, at the same time I was observing my kid who used to access the Flinnt app on her iPad and keep exploring the posts. I used to ask her what kinds of questions, updates and sharing does she like the most. I also used to take a note of how my kid's updates and posts are helping me in her revision and her homework. This observation helped me in the identifying what type of information should be shared with the students and teachers.
With these insights and our Director Nashy Chauhan's determination to make it as a learning and informative medium for both parents & teachers, the educator fraternity at Anandniketan started sharing resources. With her vision we teachers started posting worksheets, videos, same papers etc. with students. The immediate feedback in the form of likes and comments encouraged all of us to share more and more with learners and parents.
I got a better understanding of Flinnt as I could look at it as a Parent and as an educator, the different perspectives brought deeper insights. I realize that we could use Flinnt to provide diverse learning resources, each resource could give different perspectives and this could lead to a better conceptual understanding. It is important that to realize that within the classroom we do not have time to expose the students to the different perspectives, if we can use platforms like Flinnt then we can add more time to our classrooms.