More branding, personalization and control to educators!

Flinnt is now absolutely free even for institutions and it has added features that make the use of sms and email redundant. The following are some of the key features:
Alert : An alert can be sent only from the admin account and it is a text message that will go to all the subscribed users of the institution irrespective of which course they are subscribed to. All alerts are accompanied by an sms intimation to all the users, this means you can say goodbye to sms.
Posts : The tried and tested post has been retained and it has been improved upon, the post tags have been made more prominent and the whole "Add post" has been changed to provide you a step by step approach.
Albums : Add upto 10 images in one album. If you want to send multiple images of any event, you don't need to send multiple posts, send an album. Pl. try this when you have a secure and fast internet connection.
Message : Send messages to individual students or other teachers in your group. You can even send a message to a group of students and also mark a copy to your co-teacher. In the message you can attach everything that you attach in a post. You can even enable your students and parents to send messages to you from the course settings. The default setting for this is disabled, so if you want to enable your students to send you messages then you need to enable it.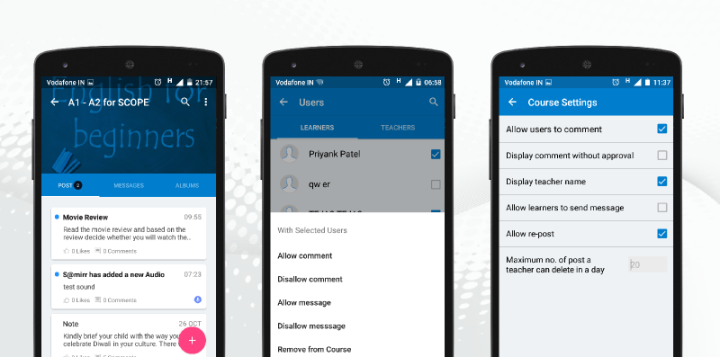 The app also has brought a lot of control features to your smartphone:
Change the course settings from the app itself.
Change the course header to reflect what is happening in your class, it could be related to the chapter that is being taught or an important event related to your subject for e.g. the birthday of a scientist or an author.
Control how each learner can use the app, you can disable or enable individual learner from commenting and also remove them from the group.
Is there a new learner in your class, invite them to the course by send them an invitation on their mobile number right from the convenience of your mobile.
You can also mute the notifications of the courses if you do not want to be disturbed for a certain period of time.
Download the new Flinnt app (Android & iOS) and enjoy the new features that empower educators and provide branding, engagement and cost savings to institutions.