Flinnt Update for Educators: Now Exercise Control over the 'Contents' Section Using Our Mobile App!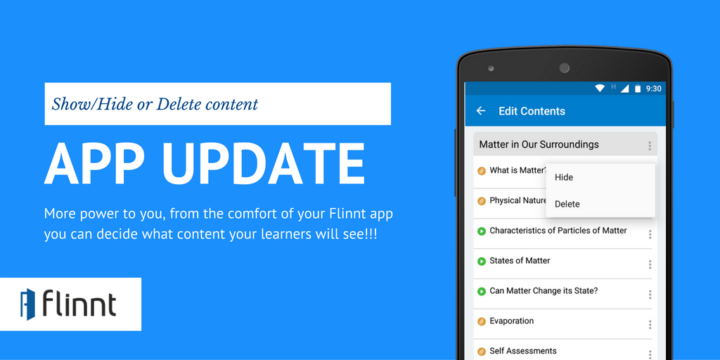 At Flinnt, we are constantly working to bridge the gap between educators and students so as to offer a hassle-free teaching/learning experience. With our website, and mobile app in particular, we've already empowered Educators and Learners to teach, learn and communicate with each other anytime, anyplace. That being said, we are devoted to making our community better each day, which is why we've implemented a change that will prove to be beneficial for all Educators on Flinnt!
In case you didn't know, Educators have the liberty to hide/show items under the 'Contents' section. Up to now, Educators had to log on to the Flinnt website to be able to change settings for chapters, topics and sub-topics. The good news is, Educators can choose to hide/show items via the Flinnt mobile app starting today!
Just select the item you want to hide/show in the 'Contents' section, tap on the ellipis (three dots) icon, and choose. Here are two screenshots for reference.
If you're wondering how the hide/show feature can help, consider this:
You don't need to wait to create or upload new content- hide the content until you're ready to share it with your Learners.

You don't need to delete content- hide items once Learners are done with a topic or quiz. This way, you can always get back to that content should you need to.
Using this feature can help your Learners save time too! Hide content that's old or not in use any longer so that Learners don't have to scroll through the 'Contents' section to find important stuff.
Do note that editing and adding new content is possible only through the Flinnt website. We're working to make this feature available on our app soon!
Upgrade to the new version and do let us know in comments how you feel about this update. Happy Flinnting!