All I need is a cup of coffee and Flinnt!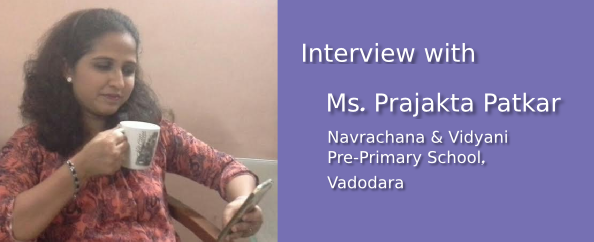 Communication is the buzz word and how to communicate is the question. Flinnt is revolutionizing the way educational institutions, educators, students and parent communicate. In this interview we will showcase how Prajakta Gupte Patkar uses Flinnt.
Prajakta teaches in Navrachana Vidyani pre-primary school, Vadodara, she uses this application to enhance communication with her parents and students. Prajakta is also the winner of the "My #Flinnt Super Power Facebook competition", you can see her entry for the competition and also see the massive groundswell of support that she received here
#Since when have you been using Flinnt?
Prajakta: In Ms. Geeta Sikdar we have the most dynamic leader who keeps experimenting. She introduced us to Flinnt in the month of December and that is how all of us teaching in Navrachana Vidyani Preschool started using Flinnt.
#How did you start using it:
Prajakta: We first started using it with a group of teachers led by our Principal, where we shared current happenings, thoughts or some important information. Then gradually we started posting to the group of our parents. And let me tell you this, the response of the parents was amazing. They started commenting and responding through likes which motivated us to post more often.
#What kind of posts do you share: 
Prajakta:
I post articles related to parenting

articles and infographics related to the health of kids.

I also share announcements and any event related information on it.

But the most important and most demanded is the photographs of kids doing daily activities in the classroom.
To make it captivating I attach all the photographs together and compose a video of it and share it. Such sharing also solve the anxiety of parents whose kids don't share about the daily happenings in the classrooms.
#What was your reaction when Flinnt was introduced by your school:
Prajakta: Being a tech savvy educator, I was quite excited to listen that we have to use an "app" to communicate classroom happenings with the parents. It also made me a little anxious that it might be a ruse to keep a record of all the classroom activity by management.
But gradually when we started using, we could understand the usability and acute requirement in pre-school segment.
#What has been the feedback from parents:
Prajakta: Parents adore it, it reduces the apprehension of parents about their kids' daily classroom activity. We had a pool party organized in the month of May, kids were supposed to come in swimming costume and we shared instant photographs of the kids with the captions on what they were doing. Parents were overwhelmed by these instant updates and really appreciate the initiative of the school.
#How do you feel, using Flinnt app:
Prajakta: It feels good to use Flinnt, it has become very convenient to use for myself as well as for the parents. The ability to send all the information at the drop of a hat, push notifications and prompt reply make it extremely convenient. It raced off the blocks and it was adopted across the institution in a fortnight.
Prajakta is one of the many extremely happy and excited teachers who make the day for the Flinn Team. She looks forward to the upcoming updates and hopes it will continue to make communication easy and convenient.
The Flinnt Team looks to Prajakta and her ilk for continued support and feedback.
Happy Flinnting!!!